Martin Guitars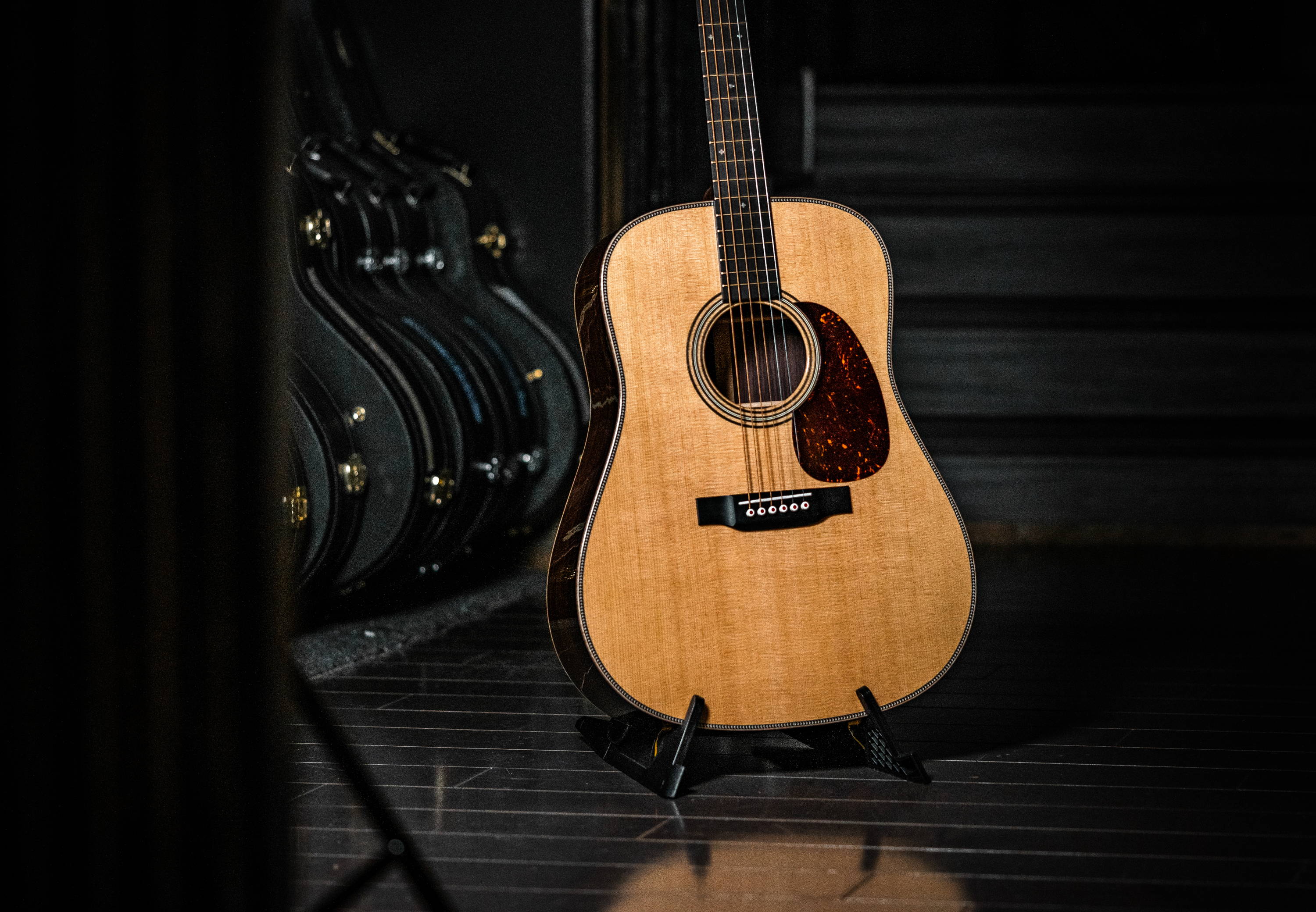 MARTIN GUITARS
The Martin family has been crafting high-end acoustic guitars for almost two centuries. Their story begins in Germany around 1800 with the birth of Christian Frederick Martin Sr. His father, George Martin, was credited with the "completion" of the acoustic guitar design, which had arrived by way of Spain in the mid 18th-century. Traditionally cabinet makers, Christian Martin sought to further develop his father's musical instruments, and went to study with the renowned luthier, Johann Stauffer, in Vienna (the Stauffer-style headstock was used on some early Martin models, and later inspired the headstock of the Fender telecaster).
After returning to Germany and setting up shop, he came into conflict with the violin guild (German craftspeople operated under a guild system at the time). Desiring exclusive access to the production of musical instruments, the violin builders publicly slandered Martin's guitars, claiming they were crude and no more musical than his cabinetry. They even initiated a legal proceeding in an effort to force him to cease production. Although the court ruled in Martin's favor, he was so disgusted by the experience that he set sail for New York City and in 1833, C.F. Martin & Company was born.
In 1938, he transplanted his shop to Nazareth, Pennsylvania. By the 1850s his business was doing quite well. He began innovating his design, starting with the "X"-braced soundboard, which is still used by virtually all acoustic guitar builders to this day.
After C.F. Martin Sr.'s death, he was succeeded by C.F. Martin Jr, who died suddenly in 1888, and was succeeded by his son, Frank Martin. Only 22 years old when he reached the helm of the company, Frank Martin was a brilliant businessman who led the company into the 20th century. His first major advancements were to establish independent control of distribution (often traveling personally from retailer to retailer) and to begin production of "mandolins", a folk instrument recently imported from Italy.
Martin grew and grew, steadily expanding operations and dealerships. They rode the Ukulele boom of the 20s and weathered through the Great Depression. Two of their biggest innovations came around 1930, with the 14-fret neck and the Dreadnought. Frank Martin died in 1948.
At this point it's worth addressing the phoenoma of the "pre-war" Martin, which refers specifically to the instruments produced before WWII. Some of the distinctive features of these instruments were Adirondack Red Spruce tops, forward-shifted, deeply scalloped X-bracing, and herringbone trim on the rosewood models (Brazilian Rosewood was the default rosewood used by Martin until 1969, when they started using East Indian Rosewood due to supply issues). Connoisseurs have come to associate all three of these things with the "Golden Era" of Martin guitars.
Why were these coveted features done away with? In the case of the species of spruce used for their soundboards, Martin was having trouble sourcing cosmetically clean pieces of Adirondack, so they switched to Sitka with little consideration for the tonal difference. It wasn't until later that folks became aware of the higher stiffness to weight ratio of Red Spruce. That said, Sitka is more of the "everyman" wood in that it's the best suited for strumming. As for the X-bracing, Martin was responding to the developing player preference for heavier strings. The retirement of herringbone trim had to do with the war itself. Herringbone purfling was a German export.
Martin grew and grew, and today is run by C.F. Martin III. In recent years, they have plowed both forwards and backwards, offering a combination of environmentally conscious modern models and ambitious re-creations of their canonical instruments. Here at Midwood we like to carry a wide offering of Martin guitars at diverse price points. We have Dreadnoughts, OMs, and OOs that are effectively clones of inconic 30s instruments as well as updated, modernized models. One thing they all have in common, however, is that Martin sound. It's the sound that started it all.
Thanks!
This field is required
This field is required
This field is required